Skwoosh Gel Pad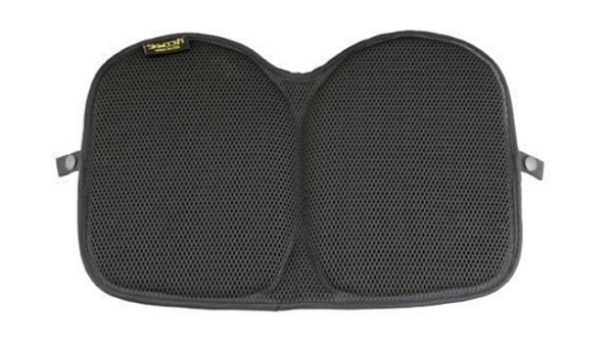 |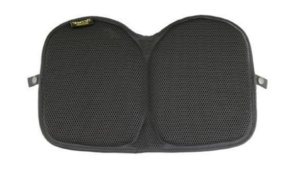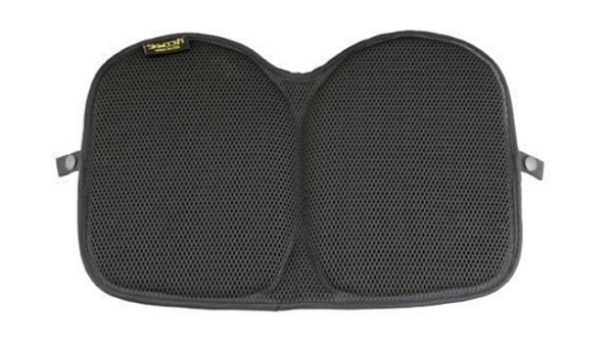 Although I wrote this review a couple of years ago, I felt the need to update it after recent events.  While I was in Massachusetts this summer, I had every intention of visiting their home base in N. Andover to pick a spare mounting strap.  Of course, I didn't and when I arrived home I found I had lost it.
I went to their website and sent an email explaining my situation.  I received a reply first thing this morning and after a couple of back and forth communications, I was told they would send me a new strap, no charge and no shipping.  How can you beat that?  I can't say enough about this company.
What the heck is a Skwoosh and will it save me from terminal Monkey Butt? This is my real world review of the Skwoosh and whether or not it increases riding time, which is all we really want to do. 
First, I will start with the technical stuff.  Here is a direct quote from the product website:  "No other motorcycle gel cushion delivers the cool comfort and vibration dampening of the SKWOOSH™ MID SIZE ICS with AIR-FLO3D™ breathable fabric. Tekpad® fluidized gel relieves pressure, maintains circulation and eliminates numbness and discomfort caused by long rides. The combination of Tekpad® gel, Independent Comfort Suspension (ICS) and AIR-FLO3D™ fabric delivers trouble free cruising comfort. SKWOOSH™ is the most trouble-free, comfortable gel cushion made in the USA."  I am not sure what a lot of that means, but it sure sounds good. 
The mid-size ICS motorcycle pad is a reasonable $64.99 and arrived quickly.  Since I consider myself quite frugal, I liked the idea that there was a no hassle guarantee.  If I didn't like it, I could return it.  What I also liked was the portability.  All I needed was an extra strap and I could switch it back and forth between bikes in seconds.  This was prior to my single bike syndrome.   
Installation is pretty straightforward.  I tried to cheat and feed the strap through without removing the seat but it actually turned out easier to take off the seat.  The good thing about seat removal on a DR650 is that it gives you access to the air filter so you feel obliged to give it a much needed cleaning.  Pop the seat back on and attached the pad and you are good to go. 
The pad stays pretty much where you put it.  You can move the straps around but not the pad once attached. This is a good thing.  Speaking of straps, I bought a couple of backup straps.  Since I have a little paranoia, I always take the pad off the bike when getting off the road for the night.  I know that the straps are absolutely useless to a thief, but I figure what is the harm of carrying back up? 
So what is the verdict?  I suffer from what Southerners call no ass at all disease.  This means I am probably a little more sensitive than most because I lack natural padding.  The original seat on my DR650 is better than the one on my prior DR350 and DR250 but that is not much of a compliment.  The Skwoosh is a big help and probably adds 25-50% more miles in the saddle.  I actually find on longer rides that taking the Skwoosh off after a few hundred miles helps.  Even though the seat alone is harder than the Skwoosh I think the slight change in seating position and pressure points enables me to go a little further. 
Would I recommend the Skwoosh?  Yes, while it is not perfect, it is a big improvement on the original seat.  I would be willing to purchase an after market seat, but after my experience with the gel seat I purchased for this bike, I am very reluctant to spend a large chunk of money again.  Did I mention I am frugal?