The Best Dual Sport Ride in the East?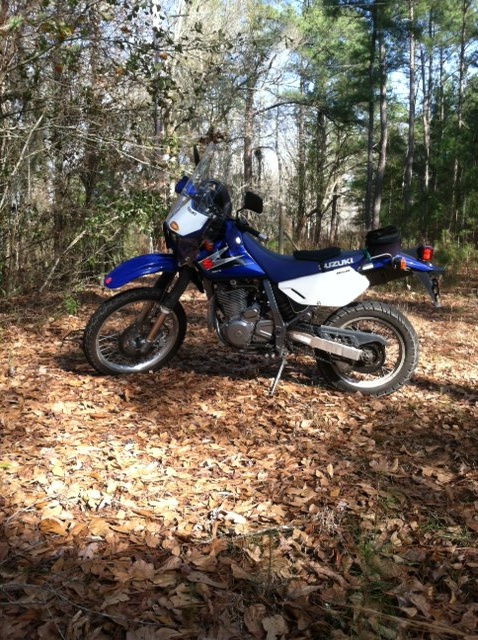 |
How is that for an enticing title?  If you have been a Dual Sport/ Adventure rider for any length of time you probably have your own favorite ride or at the very least your own favorite area to ride.  This is my favorite ride and as a bonus you can ride the Dragon while you are at it.  
I have started this ride at several different points but to make it easier I will begin where the ride description does, at the Tapoco Lodge, which is a well-known landmark in the area. You start out on 129S. If you go north, it is a short ride to the Dragon. After 8 miles or so, you will turn right into the Joyce Kilmer National Forest. The complete ride with directions is here. (Please right click and open link in new tab)
The fun really begins once you turn onto Hard Slate Rd.  As you get deeper into the forest, you begin to get a feel for what this area must have been like for pioneers who struck out in search of their fortunes.  Crossing onto Cole Denton Rd. really brings it home. 
I normally miss the turn for Porterfield Gap Rd.  Not a big deal as it is a nice ride but I have no idea where this remote road leads so I double back pretty quickly.  This section, which climbs Little Snowbird Mountain, can be a little tricky.  The road conditions are changeable and you may encounter a 4×4 coming the other way so always be aware.  It is worth the effort, though.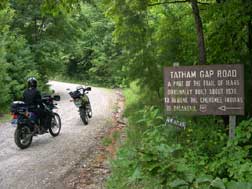 Once you come down the other side, you get a short stretch of pavement so you can relax your grip on the bars for a bit.  The next section brings you to a sad period of American history.  As you enter Tatham Gap Road, there is a sign describing the infamous "Trail of Tears" of which this was a part. The road itself is a lot of fun and there are other roads off of it that you can explore. The up and back to Joanna Bald is worth it as well. 
After coming down from the Bald, it is time for lunch and gas.  There are several choices in Robbinsville and it is a nice place to take a break.  Part 2 will cover the afternoon ride.